Pork of New York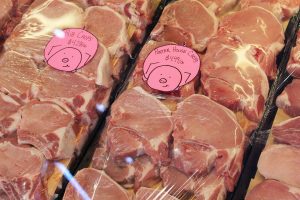 Bostrom Farms pork is antibiotic and hormone-free, vegan-fed, and ethically raised within 50 miles of our Finger Lakes butcher shop. Get Pork of New York in any cut, as a half or whole hog, plus in a variety of our hand-made traditional and specialty sausages. Don't forget to take home our 'out of this world' bacon!
For breakfast, lunch, and dinner, serve pork from Bostrom Farms.
Available for retail and wholesale customers.
Specialty sausage varieties include: bratwurst, beer bratwurst made with local craft beer, pizza supreme, cheddar and ham, apple cider, pineapple/teriyaki brats, bacon ranch brats, Tuscan bratwurst, Buffalo chicken wing, sweet and hot Italian, and breakfast. Availability varies.
We are proud to offer our proprietary Pork of New York, with this mission in mind:
Promote sustainable and humane farming practices.
Fulfill the need for transparent farmer-to-consumer relationships.
Teach consumers about the source of their meat products.
Establish and market a brand of fresh, premium, and local pork products.
Re-establish pork as a healthy, affordable, delicious meat product.